Please join us in the Memorial Garden at Christ Church, 8951 Courthouse Rd, Spotsy for our Blessing of the Animals service October 9th at 2:00.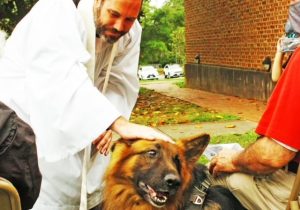 Have you ever wondered why statues of St. Francis grace many gardens? It's because of his understanding of God's grace to and through nature and animals. He is known as the patron saint of animals. His feast day is often observed with a service of the Blessing of the Animals.
All pets (and humans) are welcome: dogs, cats, birds, turtles…even stuffed and plush pets! A photo of a pet you'd rather not bring is also an option.  You can come even if you don't have a pet to be blessed. It will be fun to see all of the critters gathered, and we will have treats for people and pets.
We extend a special invitation to our community neighbors.  We hope you will join us with your pets for this special celebration.
For more information: secretary@ChristChurchSpotsy.com or 540.582.5033.
Schedule

Guests

Attendance

Forecast

Comments
Weather data is currently not available for this location
Weather Report
Today stec_replace_today_date
stec_replace_current_summary_text
stec_replace_current_temp °stec_replace_current_temp_units
Wind stec_replace_current_wind stec_replace_current_wind_units stec_replace_current_wind_direction
Humidity stec_replace_current_humidity %
Feels like stec_replace_current_feels_like °stec_replace_current_temp_units
Powered by openweathermap.org